TRAVELLING
What about visas – do I have to arrange them in advance?
At the moment you need a visa for Indonesia, we will be happy to help you with this. There are two types of visa, a short-term visa for 30-60 days (which can be obtained on arrival) and a long-term visa for 60-180 days. You can read more about these below, but feel free to talk to us, we'll be happy to help you sort everything out.
Due to the Covid-19 pandemic, it is now necessary to have the SATUSEHAT Mobile app (Android, IOS) installed with valid vaccination certificates uploaded. We recommend checking with your embassy or ministry for up-to-date information.
We recommend checking the visa conditions on the website of your embassy or ministry. For the Czech Republic, the following applies:
Visa on Arrival (max. 60 days)
Upon arrival in Indonesia, it is possible to obtain a visa on arrival (Visa on Arrival), which is valid for 30 days, is non-transferable and can be extended once for another 30 days at the immigration office (in Mataram). The cost of the visa is 500.000 IDR (i.e. about 35 USD). To extend it, it is necessary to keep the receipt. It is also possible to apply for this visa online prior to travel, at https://molina.imigrasi.go.id.
In order to obtain a short-term visa, it is necessary to have a passport valid for at least 6 months from the date of entry into the country, a return ticket (or a connecting flight to another country) and a digital or physical proof of vaccination against Covid-19 completed at least 14 days before entering the country, or a medical certificate that the traveler cannot be vaccinated for medical reasons.
If you want to avoid the Indonesian extension authorities and your trip does not exceed 60 days, you can use the B211 visa for longer stays. If you decide to extend, expect about 3 visits (photo, fingerprints, passport issuance).
B211 Visa (max. 180 days)
For longer visas, stays of more than 60 days must be arranged through the B211 visa, which must be processed through the Embassy of the Republic of Indonesia in Prague. The application is to be submitted at least 3 weeks to 2 months before departure and must be brought in person to the Embassy, and may take 10 working days to process.
Again, this visa requires a passport valid for at least 6 months from the date of entry, a return airline ticket, a completed visa form, the applicant's bank statement for the last 3 months (minimum balance of USD 2000), proof of complete vaccination (2 doses or 2 doses plus a booster dose) against COVID-19 at least 14 days prior to departure, an affidavit of willingness to follow all applicable health protocols in Indonesia, and travel insurance.
This visa is valid for 60 days and can be extended 2 times for 180 days. The cost for this visa is USD 105.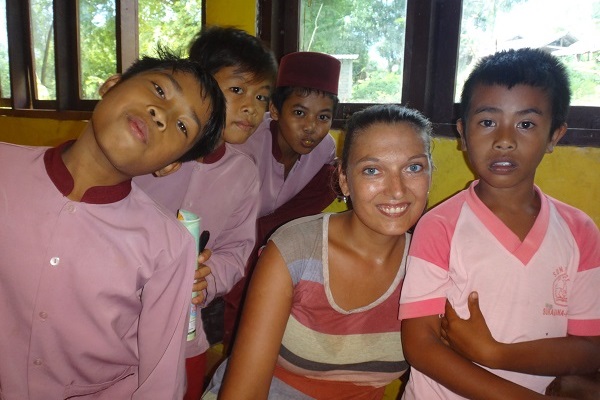 Can you help me find cheap and ideal flights?
Our volunteers will be glad to help our colleagues from CK Go2 (letenky@ckgo2.cz) with tickets, or we recommend looking for tickets on Pelikan.cz, Letuska.cz etc. You will have to find a ticket to Bali or Jakarta and then to Lombok (here e.g. via Garuda).
Do you recommend learning the basics of the local language before you arrive?
It is useful to know the basic phrases – greeting, counting to ten, introducing yourself, asking for non-spicy food. We recommend exploring our instagram where we regularly post basic phrases and words to get along in Indonesia. You will also receive a glossary of basic phrases from us before you leave.
However, knowledge of the language is not necessary and you will see that in the course the children will try to teach you on their own. You will communicate primarily in English – either with the local teachers or with the children. Even in the city, you will speak English or so called "hands, feet". No extensive knowledge of Indonesian is required.
Would you recommend any vaccinations that would be appropriate for the stay?
In general, we recommend visiting the nearest vaccination centre. Vaccinations against hepatitis A and B, typhoid fever, rabies and, in general, meningococcal meningitis are recommended when travelling by air. However, please consult a specialist.
Expect vaccinations to be a significant financial expense and do not take them at the last minute, as it is often necessary to allow time between doses or vaccines.
How much cash do you recommend taking with you?
Ideally take $500, it is better to have the money on the card and then withdraw the IDR (ideally in smaller amounts for security).
Will we have time to travel?
Sure, on weekends or by arrangement with teachers.
Would it be possible to travel around the area even to Bali?
Yes, of course. There are many interesting places on Lombok (waterfalls, Mt Rinjani, the coast, local villages and towns, the area around Kuta), but if you want to go beyond its borders, we recommend, for example, to go to the islands of Gili Trawangan, Gili Meno and Gili Air, located in the northwest of the island.
It is also easy to get to Bali, where it is possible to rent a scooter and drive to the rice plantations of Tegalalang, go for a coffee tasting (including civet), go to various temples and towns. Accommodation prices are low compared to Europe, we recommend looking for example through Booking, food can also be found at similar prices to Lombok, but you can also find more European options.
What are the trip options?
We've mentioned some of this in the answer above, but definitely ask the locals and course leaders, who will also be happy to organise trips for you. Apart from the above, we recommend visiting the various fishing villages or Pink Beach, which is a tourist attraction on the east coast of Lombok.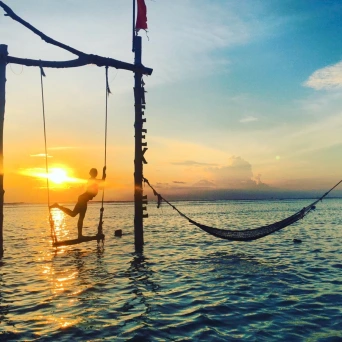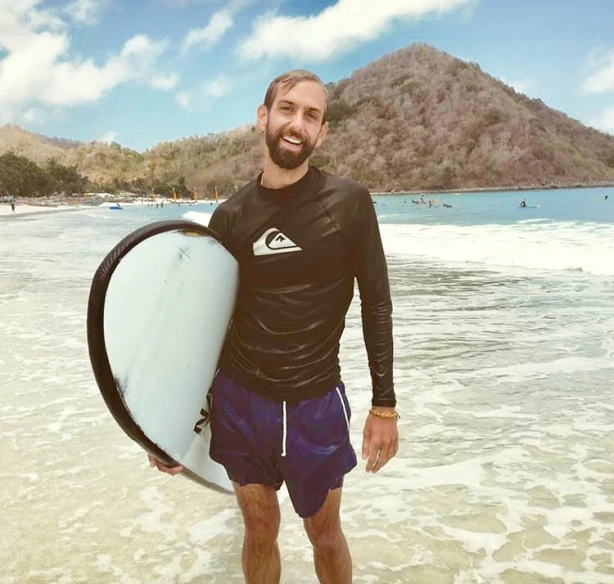 LIFE IN INDONESIA
How is laundry handled? Are there laundry facilities?
There are local laundries, it costs almost nothing, it's usually washed by the next day and you'll still have everything carefully ironed and folded.
Is it possible to surf in Lombok?
Yes, Lombok is one of the surfing paradises, and therefore the conditions are favourable for learning to surf. For beginners, we recommend going to Selong Belanak and Gerupuk beach. The locals here will fight over you. It's a good idea to find an instructor, if he sees progress, he will take you with him to the open sea. Likewise, if you are stuck in the waves for example, he will help you and keep an eye on you. Given the prices, it depends who you come across, currently surf lessons with an instructor are around 250,000 IDR (350,000 with transport from Kuta). We recommend looking more for local instructors, where you can get a better price compared to the big western courses providing surf and yoga camps.
To watch more advanced surfers we recommend going to Pantai Seger for example, but this is a highly dangerous surf spot so we recommend just enjoying yourself.
Other activities include yoga. There are several yoga centres in Kuta where you can go to strengthen your body and mind (and that you will probably need it sometimes).
Among other sports, you can try diving (ideally around Gili or Pink Beach, where you can see corals and, for example, the popular clown, aka Nemo).
How many degrees are there in September and October?
It is more or less similarly warm throughout the year, with a rather dry summer and a rainy season in November-March.
How do locals treat foreigners?
The locals are very friendly, kind and hospitable. However, it is important to respect the rules and the local culture. Be open and friendly, but beware of the local boys who are known to hit on foreign women.
Outside of the touristy areas, it is essential to dress with your shoulders (ideally elbows) and knees covered; shorts and tank tops are not recommended. This is then especially to be respected in lessons. Of course, you do not have to cover your head. Believe us, this detail, which may be unimportant and incomprehensible to us, will be appreciated by the locals. In some very touristy places you may be offered a sarong to cover your bare knees etc.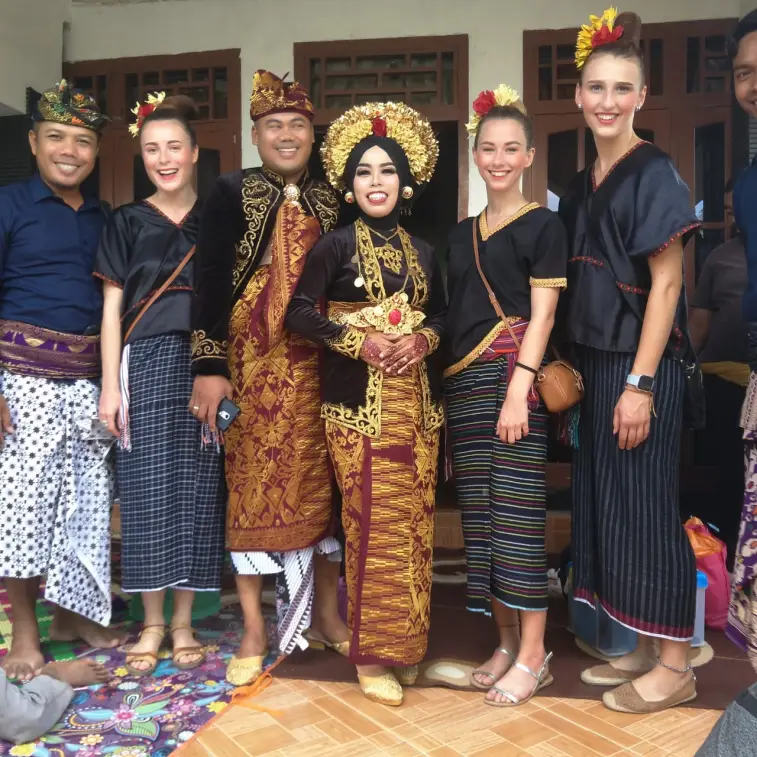 Is it a safe place, e.g. in terms of theft? What to watch out for?
It is a safe place, but that does not mean succumbing to the impression that everything is fine and everyone can be trusted implicitly. It is necessary to lock everything, not to show money, especially at night to be careful, for example, at some wilder parties, etc. It is generally not recommended to carry large sums of money, withdraw money only in banks with security (which of course may not be possible in Lombok), change money only in banks or authorized money changers.
How common is it to pay by card locally?
You can pay by card very little in Lombok. We definitely recommend that you withdraw cash. ATMs can be found at the airport, in the capital and at tourist spots.
However, we recommend getting multiple credit cards, ideally both MasterCard and Visa. You may find that a machine will not dispense cash on one of your cards and it is a good idea to have a reserve. Similarly, there are times when some ATMs don't work or won't dispense cash – this is also something to take into account. If it happens that you don't get the amount withdrawn from the ATM, we recommend that you claim the transaction with the bank, it shouldn't be a problem. It's also a good idea to try withdrawing a smaller amount first and then a larger amount (e.g. if you're travelling as a couple).
Will one improve in the English language?
It definitely depends on what your entry level of the language is. Kuta is an international city. If you don't feel completely confident in English, you will definitely move on as you will be forced to interact with people who don't know your language on a daily basis. If you have a very good command of English, then it is possible that you will not move on. But of course this depends on who you talk and socialise with during your stay. Since Indonesia is an affordable destination for Australians and an equally popular location for Westerners, then you will definitely be able to converse in better English as well.
What if they don't understand me at all?
We wouldn't worry about that. They will understand you, you can speak English, with your hands, feet or your basic knowledge of Indonesian. Don't worry about anything, the locals are used to tourists within reason, or you will know your course leaders or students, they will be happy to give you advice too.
Is it possible to live together or are the rooms separate?
Yes, it is possible to live together. It depends on where you live. Mr. Jumirim offers a double room or bungalow in Pandan Indah right at the course venue. For Ms Intan, you will be staying at her place in Tolot-Tolot, also at the venue of the courses. It is also possible to live there together.
Are meals provided as part of the accommodation? Or are we self-catering?
For both, meals are included in the stay. However, food in Lombok is not expensive and you can easily eat for little money. Moreover, it is also very good.
What is the diet here (in general)?
The food is varied and good, serving a large variety of cooked vegetables, rice, tofu and tempeh, eggs, chicken, beef and fish, the staple ingredient is of course rice, without which Indonesians don't consider a meal and even McDonald's in Mataram has a rice menu. You can even find rice in Lombok coffee.
In every corner of Indonesia you will find similar but different dishes. Typical dishes in Lombok are nasi goreng (fried rice), nasi campur (boiled rice with side dishes), urab (salad of steamed vegetables) or gado gado (salad with various vegetables such as boiled potatoes, beans, corn, soy sprouts, etc.). You'll probably love the food here, but it's possible you'll get tired of it quickly. In that case, you can visit various markets and supermarkets to buy fresh fruit and vegetables, oatmeal and other foods.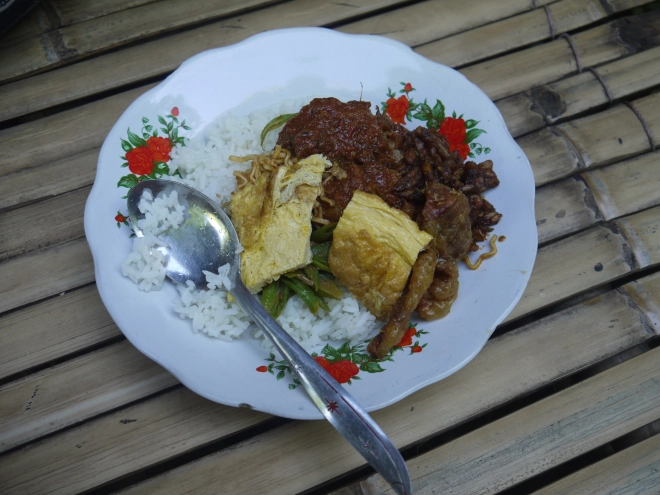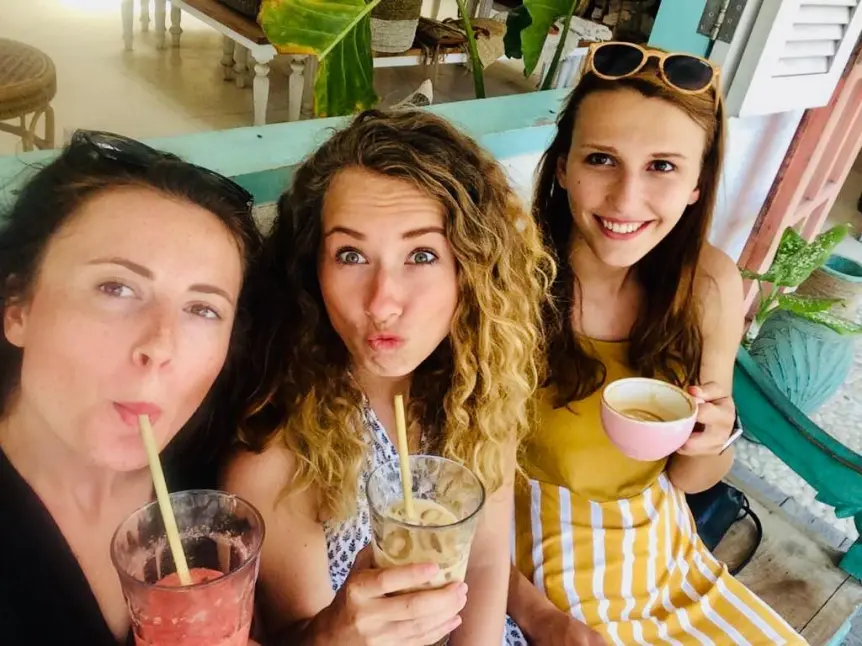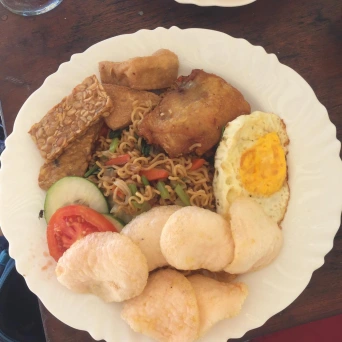 How is it good to deal with calls/SMS within your flat rate?
It is easy to get relatively cheap SIM cards (Telkomsel) in Lombok, and the course leaders can help you with this. You can buy different data and call packages, and you can make arrangements via WhatsApp, for example. What is positive is that in Indonesia these packages are very cheap.
Is there a Wi-Fi option?
As mentioned above, we recommend getting a data package (např. Telkomsel), however, Wi-Fi can also be available for free, especially in European-style restaurants in Kuta. Wi-fi is also available in courses, but may not work properly.
Will there be a coordinator/contact person on site?
The course leaders (Intan / Jumirim) will be your on-site coordinator and contact person. In case of any major problems, you can then also contact us by phone (more in the section contacts).
Are there poisonous snakes or spiders in Lombok?
Yes, they can occur, but it is rare.
Are there mosquitoes in Lombok?
Yes, of course. Long sleeves and trousers are an important part of protection, light-coloured clothing repels mosquitoes. You can also purchase the very effective topical spray Soffel, mosquitoes can be troublesome at dusk and occasionally at night. Antimalarials are not needed here, but you can catch dengue fever, but there is no cure for it.
What are the monthly expenses?
In terms of costs, you'll pay a basic monthly cost of IDR 3,500,000 per couple for accommodation and food (IDR 3,000,000 for a single person) and IDR 1,000,000 for the rental of one scooter. If for some reason you want to rent a second scooter, prices in Kuta are around IDR 100,000 per day, and IDR 80,000 per day for a monthly rental (so almost IDR 2,500,000). Petrol then works out at IDR 12,000 per litre, a little cheaper at petrol stations.
As far as food is concerned, a portion of food (rice with garnish – nasi campur) in a local warung can be found for 15 – 20 000 IDR.
Expect to pay further expenses for travel, surfing and other tourist activities. For example, a surfing lesson with an instructor currently costs 250 000 IDR (350 000 with transport from Kuta), a trip to Mt. Rinjani again over 2 000 000 IDR (however really worth it), a regular room in Kuta 150 000 IDR per night, etc.
So there are very cheap items (food, drinks, SIM card), for some things you can get higher amounts (entrances, flights, tours, even accommodation – here it depends on you what you are comfortable with when travelling). Even food can of course be found at European prices if you don't want to eat in traditional restaurants/eateries. So it's up to you how you want to arrange yourself, what you want to try, etc. For costs in Bali, see here for a comparison.
Similarly, if you're happy with the accommodation, care and food, we recommend you and your manager don't be afraid to contribute some extra funds. They won't ask you for anything (they shouldn't) but it's really polite if you are very happy, don't worry, they really won't be angry, quite the opposite.

What should one have with them?
Keep in mind that it may be warm all year round, but sometimes (especially in the winter months of July and June) you may want a light blanket or sweatshirt. Summer (November-January) is again very humid due to the rainy season, so it's definitely a good idea to bring things you won't regret if they get mouldy. For visits and classes, bring long clothes that cover your elbows and knees. Summer footwear is recommended, if you're going to hike the volcano then expect to wear appropriate clothing as well.
We recommend finding various websites with recommendations on what to bring to Indonesia.
TEACHING IN COURSES
For basic course information, visit our current course information.
What will the courses involve?
You will be taught basic English, rather then conversation, it is not necessary to put much emphasis on grammar. Focus more on games and fun activities.
But don't forget that it's not just about preparing the children for English, it's about teaching them some contact with a foreigner in general, perhaps bringing them a little closer to other ways of thinking or communicating. You will have to sense this and adapt it to the situation. You want to prepare them to communicate with tourists. It would be good for volunteers to address environmental issues, for example, that throwing plastic trash everywhere is not cool, on the contrary it can be harmful to the environment.
Can various movement, observation, bonding and other games be included?
Well, of course, the kids will love you. The game and everything associated with it is an absolute must. It's a good idea to get a speaker and incorporate different movement and singing activities whenever you can – you can find examples of these activities on our Instagram. You'll definitely get more out of them than elaborate lessons. All sorts of games for vocabulary and communication in English are also very useful.
As for games, you need to take into account that children in Lombok are different from ours. They work a lot together – often boys separately and girls separately – and so games that focus on competition and individualism may not work. Equally, bear in mind that there may be children of different ages in groups, starting with the very young.
Children also like cooking classes – if conditions allow.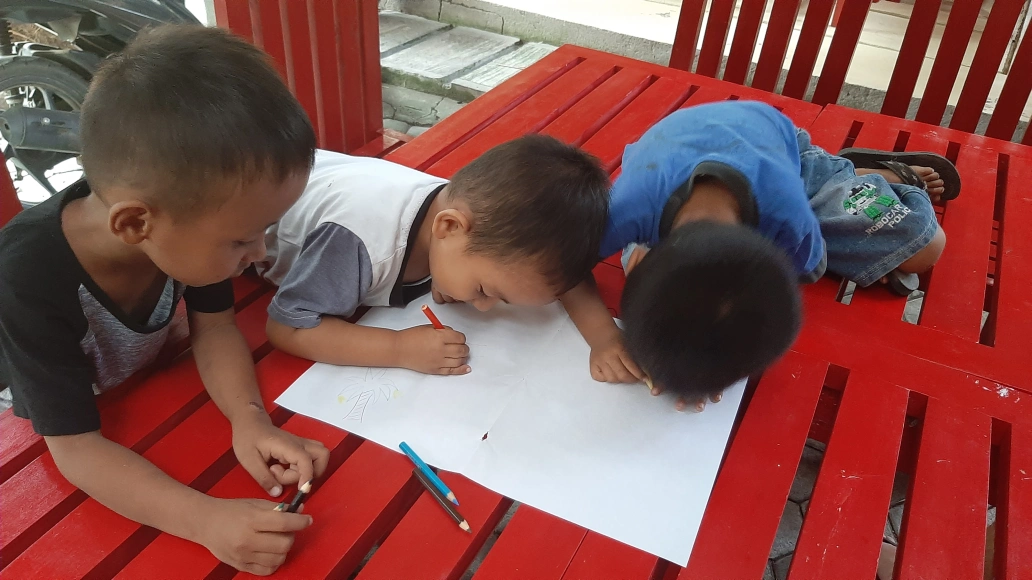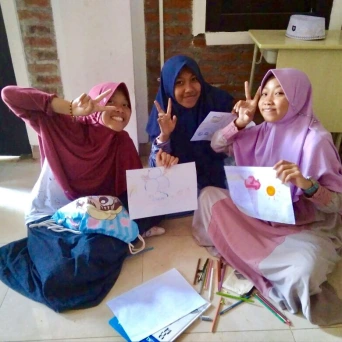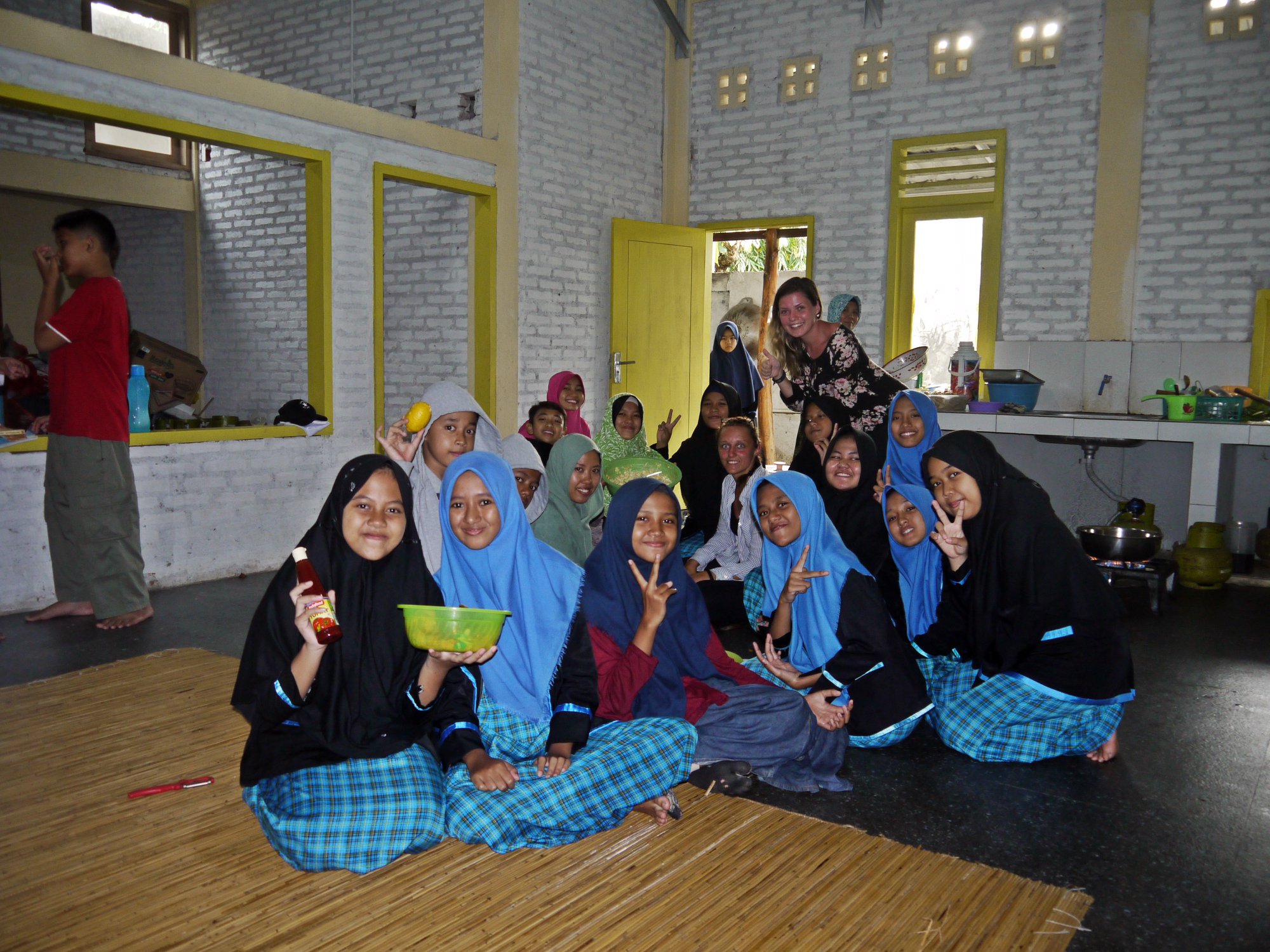 Can we bring our experience in the fields into the teaching, or would it be English only – or can I create art with them in English, etc.?
It surely is possible. All in agreement with the students and local teachers, of course.
Can we teach together and teach in tandem?
If you are not needed in different places (in groups of different students) at a given time, then by all means do. Be sure to make arrangements with the course leader, it also depends on the number of openings.
How challenging is teaching adults/children?
Teaching is moderate to easy. Don't expect it to be like in the Czech Republic. The local students are quite restless and you won't impress everyone. Some may not take anything away from you. But you can focus on the more talented ones and make the most of your presence.
They are also generally skilled at learning things by rote and by melody, so your attempts may not be to everyone's taste, but don't let that worry you.
Will someone help us prepare for the class or will we do everything ourselves?
You will need to prepare for the lessons yourself. You can consult your ideas with the course leader and meet any requirements.
Do we get the materials for the lessons or do we have to bring them ourselves?
We do not have a methodology prepared and elaborated, and in the conditions in which the schools are located, it is not even possible. It is possible that you will find some textbooks in a course, but do not rely on it. Materials can be prepared and downloaded on the spot – depending on the level of the children. We will of course give you some tips. A lot of the materials can be downloaded and used for free and legally. You can use a variety of resources such as Teach This, British Council, YouTube accounts and so on. Primarily you will have a whiteboard, then it is possible to print, but it is quite likely that this will not work directly in the course, so again it depends on the arrangements with the course leaders.
As mentioned above, it would be good to focus on communication with tourists and basic environmental education.
Will someone be checking/supervising us during class?
You will probably be taught by course leaders, and later you will work more independently, but it is possible that someone (perhaps a family member or friend) will join you in the class at any time. Sometimes they are curious and just watching what's going on.
What is involved in this work (with children/adults)? What will we teach them and how often?
As such, don't look for curricula in Lombok – you may get some, but don't expect it. Your input is certainly expected. Each course is different for each group's approach and objective, and you will discuss this with the course leader. Expect that you may teach different ages, different levels of English etc., don't be too ambitious when planning, you will probably really be teaching mainly the absolute basics. The timetable will be arranged with the course leaders.
What are the students/children like? Do they want to learn? Are they good?
You can find out more in the answers above and on our website, but a lot really depends on the approach of individual students. The approach to learning is different from ours, they are used to memorising and often you won't get an answer out of them other than the one they have learnt.
What is the level of English in students?
Again, this is also very case-specific. Some people have zero knowledge, others are easy to talk to. Someone knows learned phrases, but if you ask them anything else, they won't understand you.
Is there anything that we can bring?
It is definitely a good idea to bring souvenirs or gifts for the locals, and some motivational gifts for the students. We noticed that in Lombok, for example, they didn't know wax candies, they also appreciated various candies (if you don't want trash lying around, it's definitely better to choose some unwrapped alternatives), etc. We do not recommend bringing alcohol, it is a Muslim country.
If you are happy with the accommodation, care and food, feel free to contribute some extra funds with your leader. They won't ask you for anything (they shouldn't), but it's really polite if you are very satisfied, don't worry, they really won't be angry, quite the opposite.