VOLUNTEERING ABROAD
School in Paradise is one of the non-profit organizations dedicated to the education of children and youth on the island of Lombok, Indonesia. We have been operating in Lombok since 2013 when we started a school construction project in Petiwung. We are currently working extensively with several local entities, focusing mainly on covering English language teaching in specialised language courses. We strive to continuously improve the quality of English teaching and enable children to choose their own future. We also actively seek out potential local partners interested in collaborating and improving the quality of education.
The association was founded in 2016 by Andrea Stárková, Marcel Žitník and Filip Žitník. Andrea provides on-site teaching, facilitates volunteers' contact with local partners, organizes various events for children and actively seeks out localities where locals are interested in cooperation. She also teaches in selected schools and courses. Filip and Marcel Žitníkovi, from the Go2 Travel Agency, provide financial resources for the training and deal with organisational matters related to the running of the organisation.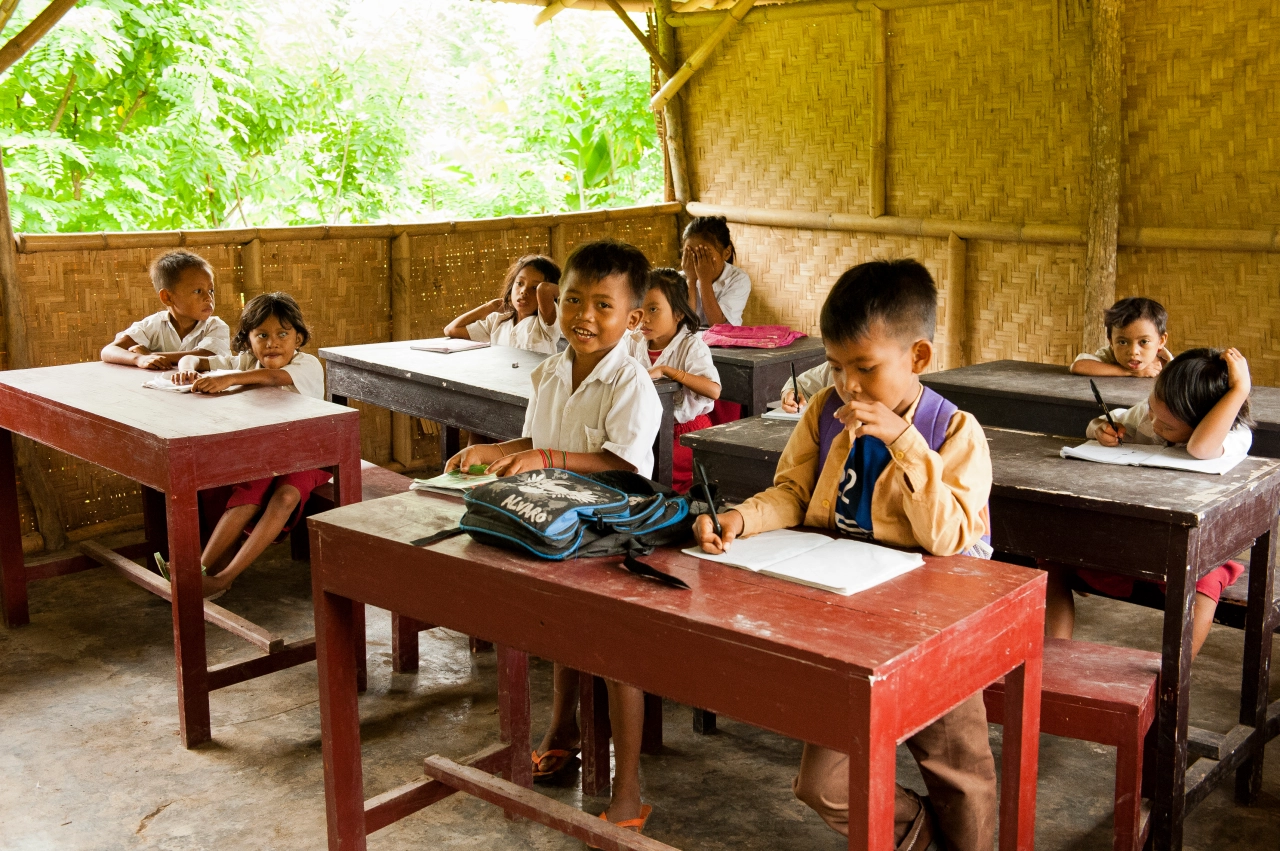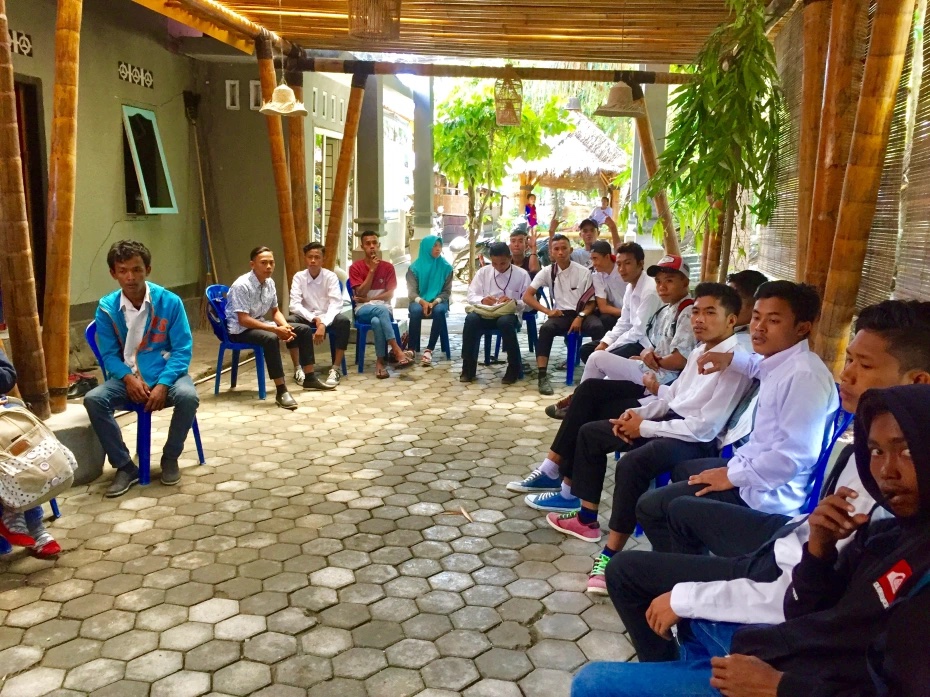 Since 2013
We have been operating in Lombok, Indonesia since 2013, when we started a school construction project in Petiwung.
We build schools
We focus on building schools in the poorest areas as a key element in the fight against ignorance and poverty.
We teach children
We teach children because we believe that education is the most important investment we can make in the future of our society.
Making the world a better place
We make the world a better place by investing in education, which is one way to solve problems comprehensively.
Who we are and what we have done
Andrea Stárková
Andrea has been working in Lombok since 2010. She literally loves Lombok and that's why she is committed to the education of local children. She is the main coordinator of the civic association School in Paradise, which she founded together with Marcel. Between 2013 and 2017, Andrea implemented a collaborative project with a school in Petiwung, South Lombok, which involved not only teaching in the school, but also the construction of school buildings and countless after-school events for the children. At this point, Andrea has been involved with two professional language courses on a consistent and long-term basis and has assisted other Lombok partners in their efforts to educate children and youth. In the summer season, Andrea works in Bohemian Paradise, where she is in charge of preparing and implementing environmental education programs for children under the umbrella of the Bohemian Paradise Environmental Education Centre.
---
Marcel Žitník
Marcel lives alternately in Australia and Indonesia. He met Andrea in Lombok in 2013. He and Andrea agreed to work together to support a school in Lombok. He is in charge of funding and coordinating the project. In his spare time, he enjoys water sports and activities with the Go2 travel agency, which offers holidays in Indonesia, among other things.
CK Go2 donates part of the funds from its tours to Indonesia to the school construction project.
---
Aisyah Odist
We have been working with Aisyou since 2014, when we met more or less by chance ( Lombok is small). Aisyah has visited our school in Petiwung many times, once with a lecture on waste recovery, the second time with an art workshop, and the next time with donations from donors. Her vivacity and vitality is infectious. She is the one who brought us to the Sayang Ibu Eco-School in Gunnungsari, which we were thrilled to see, and where, thanks to our support, two children from poor backgrounds from the south of the island have been studying since 2018. Together we organised the first eco-festival in Kuta. School in Paradise Foundation is also a member of LEIC (Lombok Eco International Connection), an international association founded by Aisyah to share eco and environmental experiences. In collaboration with Aisyah, we are currently helping to start up a volunteer eco-club in Sengkol. We are also working to enable more volunteers to work in the small community nursery that Aisyah and our organisation LEIC helped build in Kapal village on the south coast of Lombok. Aisyah even visited us in the Czech Republic in the summer of 2018 and we hope she took away a lot of inspiration.
---
WHAT WE'VE ALREADY DONE
SCHOOL IN PETIWUNG – OUR FIRST PROJECT
We discovered the school by accident in 2013. Andrea was volunteering at a nearby public school and came across a preschool being built on land belonging to the father of a little schoolgirl named Bunga. He was a big fan of education and was keen to provide it for both his daughter and other children in the local community.
Marcel from Go2, a travel agency that has been working in Indonesia for a long time, also heard about the nursery in the rainforest that needed financial help. Word got around and after several visits we started working together.
We liked how eager the locals were to provide education for the children. After getting to know the director and landowner and drinking countless coffees with a ton of sugar, we decided to help the community, first by buying textbooks and teaching aids, then building infrastructure.
The first investment was the purchase of textbooks for first and second grade, as the children only had one notebook and pencil each.
December 2013 – purchase of textbooks: IDR 7 000 000 (approx. 14 000 CZK)
NEW SCHOOL BUILDING
At the beginning of 2014, we decided to go all out and started building a school building and a library. We financed the construction of the building, Andrea supervised everything and the locals helped. One of the things we pride ourselves on is just having a lot of local involvement.
Fresh third graders entered the new classroom in the fall of 2014. The foundation for the library was provided by Green-books.org, a Czech organization that works to educate Indonesian children about ecology and conservation, and which is establishing community libraries throughout Indonesia.
January – April 2014 – school building with library and choir room.
NEW TEXTBOOKS
In December 2014, we are buying textbooks for the third grade and finally quality English textbooks that meet our requirements (but those are not available until Bali!)
After a few weeks of teaching, it is clear that the new textbooks have made the lessons more attractive for both the children and the teachers, who can now be much more systematic in their teaching.
December 2014 – third grade textbook + English textbook: 4 000 000 IDR (approx. 8 000 CZK)
NEW SCHOOL BUILDING 2015
In March 2015, another classroom space, designed for incoming fourth graders, is nearing completion. The only thing missing is to concrete the floor, in which the parents of the children are also participating. In the library, we read nature books with the children, while also trying to educate them about books.
January – March 2015 – Budget for the completion of the new building.
We regularly clean up around the school and have introduced a long-running competition to collect separated waste, in collaboration with Mrs. Aisyah and her Bank Sampah Lombok.
In December 2015 we are purchasing textbooks for another class, so at the moment four grades in our school have basic textbooks. Which, as we have seen in our visits to other schools in the South Lombok area, is not at all a given.
December 2015 – set of textbooks for grade 4 – IDR 4 000 000, approx. 8 000 CZK
CONSTRUCTION OF TOILETS
A key event was the completion of the toilet construction, which we started in January. The first official testing took place on 5 March 2016. The children can finally use the toilet, until now they used to run behind the school to the rice fields. Due to seasonal water shortages in the Petiwung area, running water at school is often the children's only chance for sanitation.
Toilets and water supply: IDR 22 000 000, approx. 40 000 CZK.
If you like what School in Paradise is doing and would like to support us, you can HERE
---
Statutes for the School in Paradise are available for download Statutes Shool in Paradise.
The 2017 Annual Report can be viewed here VS – Škola v ráji 2017 (1)