SHOOL IN PARADISE
A non-profit organization focusing on children's education on the island of Lombok, Indonesia.
WHO WE ARE AND WHAT WE DO
School in Paradise is a non-profit organization dedicated to the education of children and youth on the island of Lombok, Indonesia. We have been operating in Lombok since 2013 when we started a project to build a school in several locations on Lombok. We are currently working extensively with several local entities and are mainly focusing on covering English language teaching in specialized language courses.
We strive to continuously improve the quality of English language teaching, thus enabling children to choose their own future. We are also actively seeking potential local partners interested in collaborating and improving the quality of education. We are also looking for volunteers to come out and teach with us.
Our vision
Education is the foundation for a better future.
Open courses
Come and volunteer in one of our courses
Ivana Kubínová
2023-06-03T13:29:01+00:00
INTENSIVE ENGLISH COURSE FOR YOUNG CHILDREN, courses for adults The course prepares pupils preferably for the national English exam, which is desirable for admission to secondary schools. There are also courses for adults
Ivana Kubínová
2023-06-03T13:29:17+00:00
English Rinjani Course The course prepares high school graduates to work in the tourism industry. After graduation, students do internships in hotels and tourist facilities. 90% of the course participants subsequently get
REFERENCES
What successes have we had and what do the volunteers who have been with us say?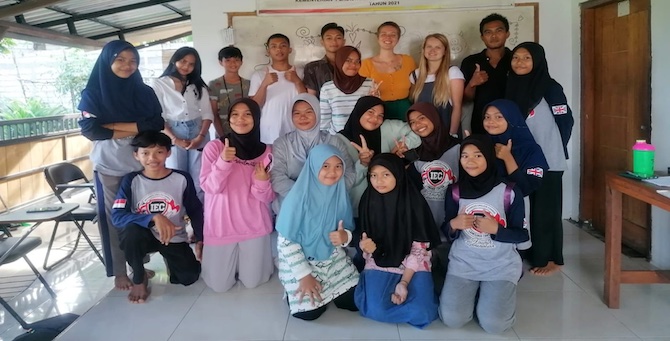 Interview with Anna Vitvarová on radio
We would like to introduce you to Anna Vitvarova, a student of the Faculty of Education at the University of Hradec Králové, who, like many other students, takes advantage of the opportunities and possibilities of the University of Hradec Králové to study and live in …
NEWS (BLOG)
Read what's going on at the moment
skolavraji
Another ten days here in Lombok is behind us. All going well, even our scooter driving skills especially now after accepting local driving rules – approaching every roundabout only from the opposite direction and beeping vehemently at everyone and all the time.
skolavraji
Reconstruction in Tolot-Tolot is making progress! 13th January 2020 All the hard
Ivana Kubínová
READ STORIES FROM PAST VOLUNTEERS Meet our past volunteers and read what they had