English Rinjani Course
The course prepares high school graduates to work in the tourism industry. After graduation, students do internships in hotels and tourist facilities. 90% of the course participants subsequently get a new job in tourism.
WHERE: Pandan Indah village, Lombok
MINIMUM STAY AND TEACHING PERIOD: 1 month (ideally 1.5-2 months), teaching 5 days a week
Classes in the morning: students aged 17-22, focusing on tourism and basic English, introducing students to the needs of tourists and recommending what the tourist expects for service.
Afternoon classes: twice a week English for children, level – beginners.
Free time: 2 days a week (or by prior arrangement with the course leader) to explore the island, waterfalls, beaches, mountains, culture…
NUMBER OF STUDENTS: 15-20 students per class.
Lombok is a beautiful island in Indonesia. Right next to Bali.
How it works here
ACCOMMODATION: Pandan Indah village, where the course is conducted directly in the institute.
MEALS: 3 times a day – traditional Sasak food – rice with vegetables, sometimes chicken and fish.
LEISURE PROGRAMME: If desired, it is possible to arrange a leisure programme – excursions in the area, visits to students' families, demonstrations of local crafts, etc.
MAIN COORDINATOR: Mr. Jumirim Sidik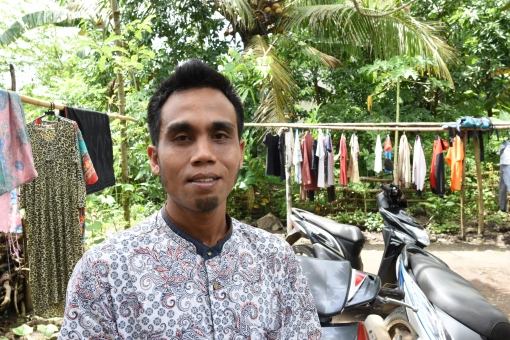 Mr Jumirim is the founder of Rinjiani English Institute (since 2005). Previously he used to work as a guide to Mt. Rinjani (3726m). Currently Rinjani English Institute is opening several branches in the south of Lombok and School in Paradise organisation is their official partner. Mr Jumirim lives with his wife and son right in the building where the courses take place.
The course here is aimed at students mostly over 15 years of age, it is a preparation for work in the tourism industry (hospitality, hotel industry) and students are prepared to communicate with foreigners, as well as courses for children. It depends on the current status of the groups.

He also organises courses for high school graduates who want to start working in the travel and tourism industry. He searches for placements available in hotels in the touristic south of the island. He is also in charge of English classes for young children. One of his plans is to open up an elementary school with English classes which would be supported by School in Paradise with the participation of their volunteers.
---
APPROXIMATE COST OF STAY:
Approximate cost of stay (accommodation with meals):
1 person – approx. 210 € / month (3 500 000 IDR)
2 persons – approx. 300 € / month (5 000 000 IDR)
Scooter rental: approx. 70 € / month (1 200 000 IDR) per pair of teachers
Pick up at the airport / port: approx. 30 € / person (500 000 IDR), price covers one trip
The amount does not include petrol for the scooter and other activities beyond the programme (excursions, shopping, etc.).
During the stay it is possible to alternate between the two courses and try more options, costs will be budgeted. Costs can be covered by a foreign trip allowance from the university – contact us for more information.
---
FIRST DAYS IN LOMBOK
Day 1 – arrival to Lombok (by boat or plane). Pick up at the airport and transfer to Pandan Indah. Rest.
Day 2 – The course leader will show you the area and hand over the scooter. Option to extend the first days rest depending on how you feel. Together you will prepare a lesson plan for the duration of your stay.
---
FINAL NOTES
Please bear in mind that getting around the island without a scooter is not an option. If you are not familiar with driving a scooter it is suggested to practise before arrival to Lombok.
It is also recommended to come to Lombok with a friend, if you are not familiar with volunteering abroad. In a country with largely different culture you will appreciate a company.
DO YOU LIKE THIS COURSE AND WOULD YOU LIKE TO VOLUNTEER?